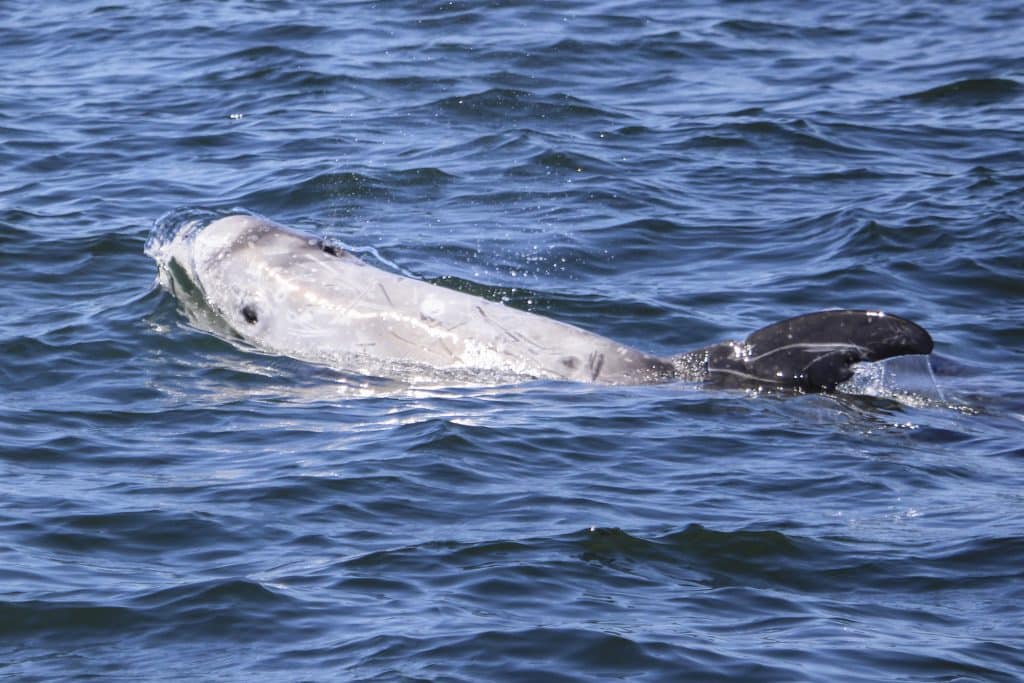 We had a jam-packed trip sighting 3 species of dolphins! We set out toward the west and caught up with ~100 Short-beaked Common dolphins. They were on the mellow side but a handful were very energetic and were seen breaching and porpoising! We observed about 7 cow/calf pairs. We continued on and observed a couple of Guadalupe fur seals along the way. A rare sight for us! We reached almost 12-miles from Mission Bay and hung out with a pod of ~40 Risso's dolphins. They were split up in two subgroups and with one pod being a nursery pod! There were many little cow/calf pairs even exhibiting fetal folds! We watched the Risso's swim in a long, wide line, called an echelon formation. They went on mini dives and popped up all around us. On our way home, we caught up with a small pod of ~20 Long-beaked Common dolphins hangin out with diving birds on the drop-off. The visibility was amazing, being able to see down into Mexico, and up toward Del Mar!
The dolphin frenzy continued on the sunset trip! We encountered an adorable nursery pod of short beaked common dolphins early on. It was so special to watch the little nuggets as they swim clumsily next to their mothers. If you know what clumsy puppy feet look like – you kinda get the idea of clumsy dolphin tail. They're just so wiggly and uncoordinated you can't help but giggle joyfully at them. We ventured out west to see if we could find anything else out there but beer only met with calm seas and a toasty burnt orange sky reflecting on the glassy peaks of ocean wavelets.
We found a very surfy group of long beaked common dolphins on the way in to shore – they stuck with us and surfed gleefully in our wake for quite some time
Hope you'll join us soon!
Naturalist,
Vanessa & Alison